Careers
---
We don't just provide jobs, we provide careers - places to grow. With retail locations in 47 states and Puerto Rico, plus corporate offices in Indianapolis and Boulder, there are plenty of positions that will fit exactly what you're looking for.
Benefits
We've got you covered. Finish Line offers benefits
for all full-time corporate and retail employees.

Medical, Dental & Vision
Eligible employees can enroll in our comprehensive insurance plans.
Paid Parental Leave
Three weeks paid time off for birth or adoption placement.
401k & Employee Stock Purchase Program
Eligible employees can receive a Company Match up to 4% of pay by enrolling in the 401k Plan and can participate to contribute in the Employee Stock Purchase Plan. ESPP is at a 15% discount.
Flexible Spending
Allows employees to set aside money for medical or childcare expenses on a pre-tax basis.
Education Reimbursement
After a year of employment, receive reimbursement for job-related courses and/or certifications.
Wellness Incentive Program
Earn money and put it toward your medical plan by staying active through our wellness activities.
Life Insurance & Disability
Life insurance will include basic, supplemental, short-term, and long-term disability support.
Virtual Visits
Lets you see and talk to a doctor from your mobile device or computer without an appointment.
Discount
All employees are eligible. This benefit can be used by employees, a spouse/domestic partner, and dependent children.
PTO & Paid Holidays
Eligible employees can take advantage of our comprehensive PTO plan.
Fitness Center & CrossFit Facility
Full-time wellness coaches are available to lead yoga, cardio, CrossFit, and other fitness classes. Our wellness coaches can also provide personalized workouts designed meet individual fitness goals.
Health & Wellness Center
Finish Line's onsite Health & Wellness Center provides full primary care services to employees and family members on the group health plan.
Top Reasons
To Work at Finish Line
Shoes So Fresh
We carry the latest. Plus, the employee discount doesn't hurt.
Culture
We work hard.
We work together.
The rest comes easy.
People
Our diverse employees and customers are our greatest strengths.
Innovation
We don't wait for
change – we create it.
Balance
We offer unlimited PTO. We work hard. We play hard.
Finish Line Youth Foundation
We change lives of disadvantaged youth in our community.
Leadership Opportunities
Leadership Development, Women's Leadership Initiatives, and Career Planning
Health and Wellness
Healthy body means healthy mind. And we're all about it.
Customer First
We stay connected to our customer at every step.
Epic Finish
It may start with a fresh pair, but it ends with this.
Stories of Success
How far we've come, and what we've accomplished to get there.
Jody McCall
Director, IT Service Operations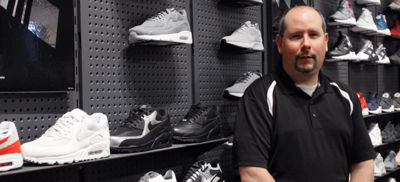 Jody's work ethic is exemplary as demonstrated by his consistent participation in and outside his areas of direct responsibility. He is the "go-to" guy in most people's minds and always responds.
Jody works diligently with business partners to create strong working relationships. He remains focused on dramatically improving the customer experience, which reflects his commitment to our company and mission.
Stephanie Mui
Director, Visual Merchandising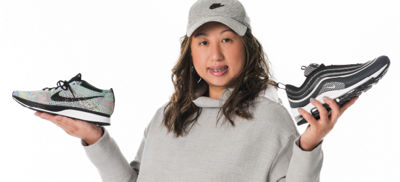 Stephanie played an instrumental role in the development and execution of our updated store design. Her relentless focus drives operational efficiencies, which has enabled Finish Line to open a significant number of stores in a short amount of time.
Stephanie's attitude, passion, and drive are what sets her apart. With a can-do attitude, she thinks outside the box when the normal process is not fast enough or reliable enough to get a store opening completed on time. She is consistently creative in the moment, finds solutions that work, and fulfills every task with urgency.
Michael Gibboney
Manager, Financial Planning and Analysis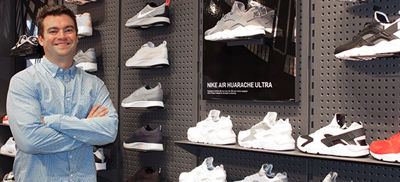 As a member of the finance team, Michael drives expense savings to ensure we maintain investments that drive consumer engagement and sales. He was an integral player in the transformation of our operating model.
Michael's competitive nature drives him to deliver results purposefully and urgently. He has a passion for the athletic retail space, and comes to work every day with the will and drive to make Finish Line exceed expectations.
Ryan Kitabayashi
Finish Line at Macy's Store Manager
Before joining the Finish Line Macy's team, Ryan Kitabayashi focused on finishing his degree in business administration. As someone who had a passion for footwear as long as he can remember, he felt that Finish Line would be a great fit for his first job out of college.
Ryan started his Finish Line journey in 2013 as a sales lead, and has since climbed the ladder to a store manager position thanks to his dedication to driving results and inspiring others to do the same. Known as one of the best in the company, Ryan leads and mentors many in his store and the entire district.
Connect With Us
See all of your Finish Line
connection on LinkedIn.
Connect
Join Our Team
We don't just provide jobs, we provide
careers - places to grow.
See All Jobs
Finish Line Careers
Whether you want to work in one of our retail stores or find a position in our corporate locations, we make it easy for you to apply for the job of your dreams. At Finish Line, we offer tons of employee perks and take pride in our work-life balance. We also love to give back to our local communities through the Finish Line Youth Foundation. There's no doubt – our culture is solid (and the employee discount doesn't hurt.)

Does Finish Line sound like the place for you? Search for the perfect position and apply online today.
---



E-Verify® is a registered trademark of the U.S. Department of Homeland Security