Women's Nike Lunarglide 6 Running Shoes
654434 001
Black/White/Pure Platinum/Cool Grey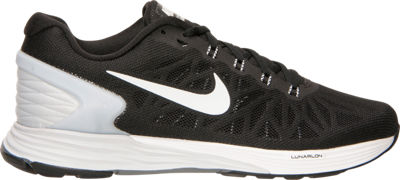 5.0
5.5
6.0
6.5
7.0
7.5
8.0
8.5
9.0
9.5
10.0
11.0
Buy Online & Pick Up In-Store
Description
Don't you hate when you need a stability running shoe but they never seem to be cushioned enough? Well, Nike heard that plea and designed the Nike Lunarglide 6 specifically to solve that issue.
Thanks to a slew of upgrades and innovations, the Lunarglide 6 can properly support any pronation while still delivering a plush, comfy ride. Imagine as you head out for that summer morning run and finally, you've got on runners that aren't bulky, keep your feet aligned exactly how they should be, while keep the bottoms of your feet happy with cushion that feels cloud-like. That's all possible thanks to the fusion of Dynamic Fit with Dynamic Flywire cables and Dynamic Support (AKA support that adapts to you) on the upper, Lunarlon with dual-density (AKA extra stability to slows your pronation as you run) on the midsole, and a pressure-mapped outsole (AKA a bottom that flex and moves as your foot does).
Whether you're a diehard Lunarglide fan or have never tried them on, Nike has delivered another running classic that's just in time for the nice weather.
FEATURES:
CATEGORY: Stability
UPPER: Dynamic Fit with Dynamic Flywire and Dynamic Support
MIDSOLE: Lunarlon with dual-density
OUTSOLE: Pressure-mapped outsole
IMPORTED
Rated

5

out of

5
 by
Slimpeg
Fabulous shoe!!
This is the most comfortable shoe I have - in fact, I bought 2 pair! And I plan to get the gray and blue ones too!! I wear them at the gym and just around at the mall. These are the shoe for you if you're looking for comfort and style. You won't regret buying these!! Love them!!
April 30, 2015
Rated

5

out of

5
 by
Dessi
Love my Nikes
I love this shoe!! I was always a power walker I recently began training for running I am doing a 5k in May I researched the Internet for good running shoes the Nike Lunarglide had very good reviews so I went out on a limb and bought my 1st pair the blue ones!!! Out of the box super light true to fit!!! I've had no issues with pain at all with my running I can not wait to receive my 2nd pair!!!!I highly recommend this shoe!!! I have ABSOLUTELY NO REGRETS
March 21, 2015
Rated

5

out of

5
 by
Goody2Shoes
New Love
I love this shoe! I have been down for a while with an illness and as a result, I incurred some issues with my feet. Neuropathy, drop foot & overpronation, just to name a few. Now that I am mobile again, it was recommended by doctors that I wear New Balance for stability & motion control, plus and orthotic (arch support device). I didn't challenge the directive because NB was what I wore mostly when I was in the military and it's a good shoe. Well, I wore the NB for almost year and I always felt that they were heavy and cumbersome. I know that I have foot issues, but when I wore the NB, I felt weighed down during my workouts. I have always been fit before my illness and I wore Nike mostly but never really had to buy a shoe mainly for stability control. After reading about the Nike Lunarglide 6, I decided to order a pair. Wow! What a great decision. I received them and right out of the box, I first noticed how light weight they were. I put them on and I immediately fell in love. My feet were comfortable and my arch & heel felt very supported. I was prepared to place the orthotics in the Lunarglide 6, just as I had done with the NB but to my surprise, I did not need the orthotics! Yes, I said it, NO orthotics. I wish I had discovered this shoe a year ago. My gait has improved and I no longer feel as if I'm weighed down. I have also been able to beef up my workouts. Now I workout and walk more confidently and feel like I'm walking on air, plus they look good too! Only one issue...After I purchased them online, I noticed that a week later they were on sale. I will take advantage of the discounted price and order a different color. The Nike Lunarglide 6 is definitely a keeper!
March 6, 2015
Rated

5

out of

5
 by
Treetop
Comfy & cute
This shoes fit true to size with Nike. I normally wear a 7 1/2 but in nike I wear an 8. I do all kinds of fitness classes in the shoes and they are vert comfortable. The keep my feet stable
February 28, 2015
Rated

5

out of

5
 by
am22
Love lunarglides
My only complaint is that the sizing seems about a half size bigger than older models of the Lunarglide. Other than that, I absolutely LOVE this shoe!! By far the most comfortable shoe I own, and I own over 20 pairs!
October 2, 2014
Rated

4.7

out of

5

 by

11

reviewers.