Womens Sof Sole Plantar Fasciitis Insole
is rated out of
5
by
19
.
Women's Sof Sole Plantar Fasciitis Insole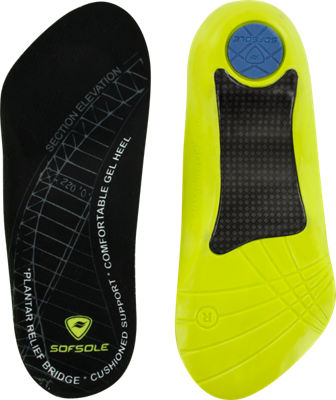 Buy Online & Pick Up In-Store
Description
Whether you're working or playing during the day, you're still on your feet for most of it. The last thing you should worry about is pain from pressure on your plantar fascia.
The Women's Sof Sole Plantar Fasciitis Orthotic Insole is your pain-free solution to all day, on foot comfort. Three key components work together to keep those puppies comfy, supported, and stable. The Plantar Relief Bridge is sturdy enough to support arches that have been working all day, the heel cup adds motion control, and the gel unit in the heel relieves pain from heel spurs. Even the design of this insole makes life easier; the 3/4 length construction ensures a proper fit, no matter the shoe type, while the nylon composite plate equals durability no matter what you're doing.
FEATURES:
FABRIC: Nylon composite
SIZE: Women's size 6-10
IMPORTED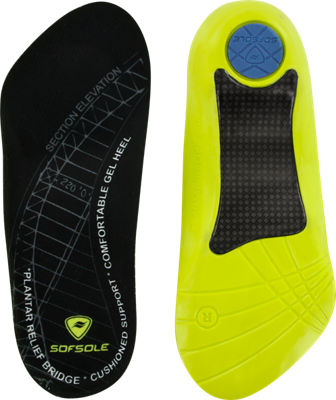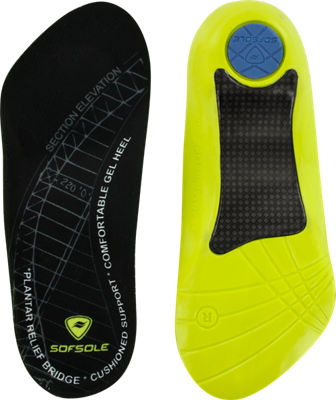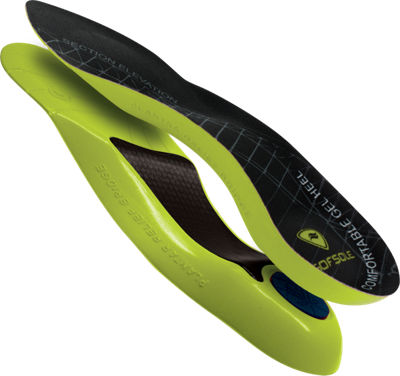 Rated

2

out of

5
by
LynnK
from
Smells & sqeeks
I bought 2 pairs of these Plantar Fascia orthotic insoles. 1 women & 1 men I wore the women's pair for a total of 5 hours and if I got lost my husband would have for sure found me by the noise I was making while walking!!! Is there a trick to stop the noise???? I would not recommend unless they are silent!! .
Date published: 2017-02-08
Rated

5

out of

5
by
Shepard
from
Saved my career!
I purchased these around Christmas time. I am a Pharmacy Tech and nurse. I am on my feet at least 10 hours a day. For the last year, I have tried every insole, and every pain killer...day 1 of using these I was able to work the whole day without crying!! Thank you, thank you!!!
Date published: 2017-01-30
Rated

5

out of

5
by
Ori P
from
Good things come in small packages..
I have been battling plantar faciatis for months with little relief, with limited and painful walking. I came across these soles by sheer chance and thought I have nothing to lose. As soon as I wore them, it felt like myself again! No pain, immobility, discomfort! Last night I went dancing, something I have not done in many months, and had the best time. If only my orthopedist had suggested them as an option..
Date published: 2016-12-07
Rated

2

out of

5
by
twalk
from
Caused heel pain
I have really tried to make these insoles work. The relief to the arch area of my foot is amazing so I was hoping the raised lump in the heel would soften up and allow me to keep wearing these. Unfortunately it did not. To anyone who isn't familiar with these insoles there is a rather stiff raised dome right in the middle of the heel. I would compare the sensation of stepping on it to stepping down on a firm bouncy ball. As you could imagine repeatedly stepping down on a stiff bump is going to give you killer heel pain after a while. I got these insoles to reduce my heel pain and instead it added to it. If they could remake these insoles but with a heel cushion that fit the anatomy correctly I would be interested. That lump is just a total dealbreaker. Fix that and it would be a great product.
Date published: 2016-10-13
Rated

5

out of

5
by
MktgProf
from
First pain free day
I have been fighting planar fasciitis for several months. I have tried wearing several boots, tennis shoes, dress shoes, and sandals to work. None really worked. I saw these at Dick's Sporting Goods while evaluating $150 tennis shoes, all of which hurt while walking on the test track. I tried these inserts and my sore feet were immediately happier. I thought for only $20 it was worth a try. This morning I stuck them in my hiking shoes and by the time I got to work I realized I was pain free. All day, almost 8500 steps, and only very mininmal pain which seemed to be residual from yesterday's shoe testing and Saturday long walking on concrete. I am wearing them tomorrow in another pair of shoes, and based on testing tonight my 14 hour day of standing and teaching will be like the pre PF days. Highly recommend!
Date published: 2016-09-27