Womens Sof Sole Airr Insole
is rated out of
5
by
6
.
Women's Sof Sole Airr Insole
Buy Online & Pick Up In-Store
Product Details
The Sof Sole Airr Insole features revolutionary air bag technology with a Coolmax fabric cover. The heel and arch contain air cushioning pockets to make every step feel light and reduces the direct impact on your feet. Place underneath existing insole for proper fit.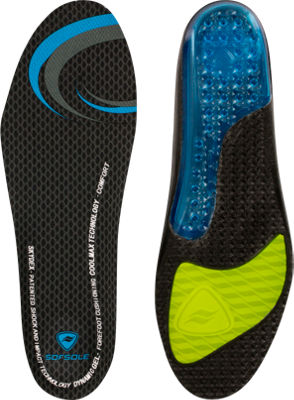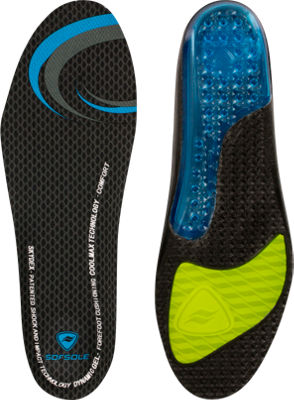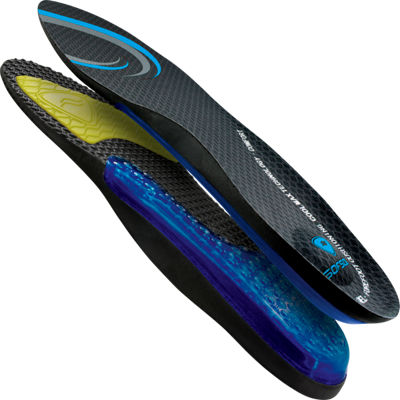 Rated

1

out of

5
by
TerryC
from
You fixed something that was not broken-now it is
I have been buying the airr innersole for years. You changes ruined them. They are thinner, so they don't have the cushioning I need. That little ball of junk you put under the heel sucks - it collapses down and then the skin on the bottom of my heel smashes in and gets pinched when I walk. Until you bring the old airrs back, you have lost a longtime customer. I would buy the original airr again in a heartbeat.
Date published: 2016-11-17
Rated

5

out of

5
by
Brian
from
New vs Old Version
The new AIRR is good but not great. I have purchased approximately 20 pairs of AIRR over the last ?? 10 years. The old version was nice and thick and simple. Yes you needed to make it work by removing given insole, purchasing 1 size larger shoe, or even a wider brand. You would need to always bring AIRR with you when you bought new shoes. When you found a shoe that worked, it was heaven. (or like walking on air) I was a chiropractor for 12 years and now a fireman for 11. I made and ordered orthotics for a living. They were up to $300 each and fell apart within 1-2 years. I still have original AIRR's and have cycled them into my thrasher and work around the house shoes. The new version does not cushion the forefoot as well and the heel button or heel cushion is a gimmick. The button feels like a small pebble and serves no purpose. I have recommended the entire product line to patients over the years. I get all athletes to wear the ATHLETE version if it can fit, otherwise we find a thinner version. The product reviews are not that good, and those are just the people that take the time to contact SofSole. I'm assuming the change was due to sales, marketing, and customers not knowing how to fit the orthotics. Please bring back, or make available the old AIRR version. I love and value my old AIRR version.
Date published: 2016-06-09
Rated

2

out of

5
by
James22
from
I wish I could still purchase the older version
I've run well over 6,000 miles, including dozens of marathons, in the past 6 years using this product. Never had a single blister, and always enjoyed the comfort and dryness. But then the design was changed in 2 ways that have ruined it for me: The shape was altered to "better fit" more shoes, but now it no longer works as well in my shoe and size ( Men's Asics Nimbus size 10.5 ) My feet are now uncomfortably always aware of the insert edges, as if the newer cut is no longer big enough for my shoes. They also added an air-bubble right below the heel that constantly feels as though my sock is crinkled under my foot. Very annoying. I have always purchased a new set with every pair of shoes I buy and highly recommended them before, but now I regrettably feel it's time to find another option.
Date published: 2016-03-06
Rated

1

out of

5
by
Sus4
from
Terrible
Bought these and MAYBE have 40 miles on them and one heal on the skydex insoles is almost broke and the other is absolutely obliterated . Would you be willing to send me a set that will hold up? They hurt terribly to wear for more than 5 min.
Date published: 2016-02-23
Rated

1

out of

5
by
hauler
from
D width insole blisters the toes of 14EEEE feet
Purchased Airr Performance insoles a week ago, they raised blisters on big toes in 2 days, since the toes are half on and half off the insole. I threw them away and ordered more of the wider (about EE) SofSole Athelete Performance inserts, which happily are also cheaper. Also the hard blue arch support had a had a lump where it bonded to th right insole that I had to grind off just to try them out.
Date published: 2016-02-08