Polar FT4 Heart Rate Monitor Watch
is rated out of
5
by
34
.
Polar FT4 Heart Rate Monitor Watch
Buy Online & Pick Up In-Store
Description
The Polar FT4 Fitness Monitor is designed for those who want basic heart rate-based features to help with fitness training. Put on the WearLink+ transmitter chest strap for your heart rate and get started! Receive stats like average and maximum heart rate during your workout. When your heart rate exceeds the upper limit or goes below the lower limit of your target rate, the Polar FT4 will notify you with visual and audible alarm alerts. The fitness monitor also counts and displays calories burned during each session.
FEATURES:
TYPE: Digital
MATERIAL: Polyurethane and Stainless Steel
IMPORTED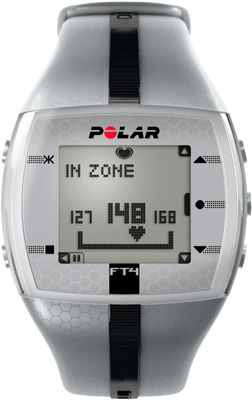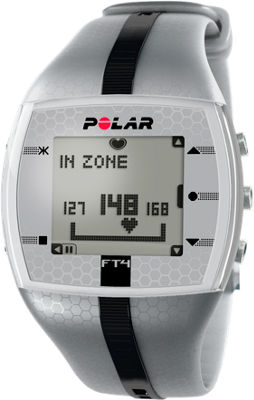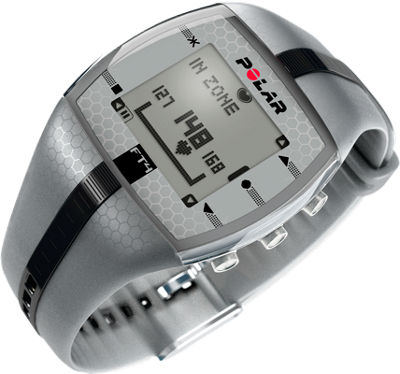 Rated

3

out of

5
by
WishItWorkedMom
from
Liked it a lot. At first
Like others I bought mine (FT4) about 3 years ago and it worked great but then last year the battery died on the watch. No problem, got a new one. But then it couldn't read my heart rate so recently hubby changed out the batteries on the watch and sensor. First day all was well but after that in the middle of the workout it couldn't read it. This happened several days and I kept re-wetting the strap. After use I always wet as instructed and wash once a week. I wish it had sensor on the watch, for a person my size (and female) not exactly comfortable. Now I have to find a watch with sensors on it or an arm strap.
Date published: 2017-01-27
Rated

3

out of

5
by
TLDB
from
Might work better for me if I tape it to my ear.
What I loved about my old Polar F4: an audible beep sounded if my heart rate was under or over my target zone. I knew to increase or lower the intensity without looking at my watch. I used it for years! Then the chest strap battery went kaput and in that old style, the battery could not be replaced... So... I bought a newer set--FT4 chest strap and watch--advertised as having an audible target HR zone alert. The chest strap is comfortable (I like it even better than my old one!) and works great, but the supposed beep or chime to indicate target heart rate zone is inaudible. Sometimes I can hear the weak little chirp if I raise it to my ear. I'm happy with everything else about the watch and HR monitor. It's just annoying to have to keep looking at my watch to see if my HR is in the zone. I don't know about anyone else, but I don't exercise with my wrist pressed against my ear. What good is an alert that can't be heard?
Date published: 2016-12-08
Rated

3

out of

5
by
Stannmann
from
Not intuitive
As with the original, you need to have the instruction manual handy to operate. Display too small.
Date published: 2016-09-20
Rated

2

out of

5
by
Senior
from
Loved it at first
Had worn the old Polar 20 for years. Replaced it with a FT4 and liked it very much but....Only wore it a couple of times when a rash started develop under the belt. Wiped off after each use and washed the belt regularly (after 3 uses). Stopped using the belt and the results of a severe reactions to the belt still evident after 5 weeks!
Date published: 2016-07-26
Rated

4

out of

5
by
LrBarrios
from
Accurate watch
I love the watch it's been great I've had it since 2013 and yes it almost every day the battery did die about 2 years in and it sat for about 6 months before changing it ever since I did change the battery the watch malfunctions it turns on and off the screen gets a weird I'm always having to set it its a pain especially when it does it during a workout and I lose all my info
Date published: 2016-05-20