Men's Reebok Question Mid Basketball Shoes
20% Off With Code TWENTYOFF99, $7 Flat-Rate Shipping
20% Off With Code TWENTYOFF99, $7 Flat-Rate Shipping
20% Off With Code TWENTYOFF99, $7 Flat-Rate Shipping
20% Off With Code TWENTYOFF99, $7 Flat-Rate Shipping
20% Off With Code TWENTYOFF99, $7 Flat-Rate Shipping
20% Off With Code TWENTYOFF99, $7 Flat-Rate Shipping
20% Off With Code TWENTYOFF99, $7 Flat-Rate Shipping
20% Off With Code TWENTYOFF99, $7 Flat-Rate Shipping
20% Off With Code TWENTYOFF99, $7 Flat-Rate Shipping
20% Off With Code TWENTYOFF99, $7 Flat-Rate Shipping
20% Off With Code TWENTYOFF99, $7 Flat-Rate Shipping
20% Off With Code TWENTYOFF99, $7 Flat-Rate Shipping
$7 Flat-Rate Shipping
$7 Flat-Rate Shipping
$7 Flat-Rate Shipping
$7 Flat-Rate Shipping
$7 Flat-Rate Shipping
$7 Flat-Rate Shipping
$7 Flat-Rate Shipping
$7 Flat-Rate Shipping
$7 Flat-Rate Shipping
$7 Flat-Rate Shipping
$7 Flat-Rate Shipping
$7 Flat-Rate Shipping
$7 Flat-Rate Shipping
$7 Flat-Rate Shipping
$7 Flat-Rate Shipping
$7 Flat-Rate Shipping
$7 Flat-Rate Shipping
$7 Flat-Rate Shipping
$7 Flat-Rate Shipping
$7 Flat-Rate Shipping
$7 Flat-Rate Shipping
$7 Flat-Rate Shipping
J82534 WBL
White/Blue/Red
J82534 WBL
White/Blue/Red
AR0252 NVY
Denim/Wheat/Brown
8.0
8.5
9.0
9.5
10.0
10.5
11.0
11.5
12.0
13.0
14.0
8.0
8.5
9.0
9.5
10.0
10.5
11.0
11.5
12.0
13.0
14.0
7.5
8.0
8.5
9.0
9.5
10.0
10.5
11.0
11.5
12.0
13.0
14.0
8.0
8.5
9.0
9.5
10.0
10.5
11.0
11.5
12.0
13.0
Buy Online & Pick Up In-Store
Product Details
There's no question that the Men's Reebok Question Mid Basketball Shoes are as iconic as the Rookie of the Year who wore them. Just like Iverson defied his critics who questioned his size and skill when he first entered the NBA, you can challenge your naysayers in these performance basketball kicks.
Featuring a full-grain leather upper for superior comfort and durability, these sneakers also have a mid-cut design for added mobility on the court. The honey-comb shaped Hexalite cushioning system not only has a unique look, but also offers plenty of shock absorption as you hustle on the hardwood.
Cop these must have sneakers while they last.
FEATURES:
UPPER: Full-grain leather
CUSHIONING: Honey-comb shaped Hexalite system
OUTSOLE: Durable rubber
IMPORTED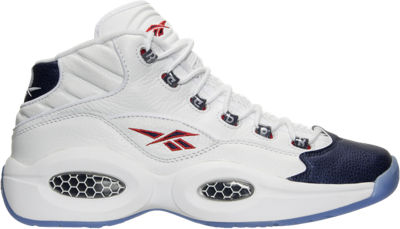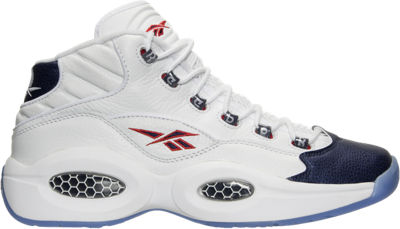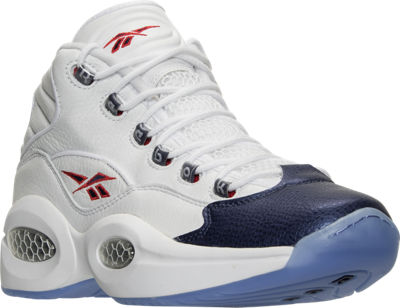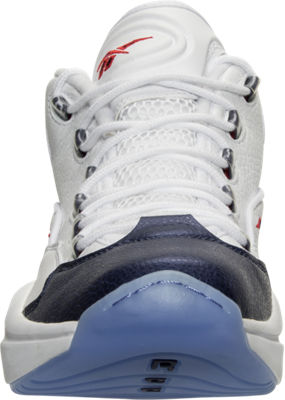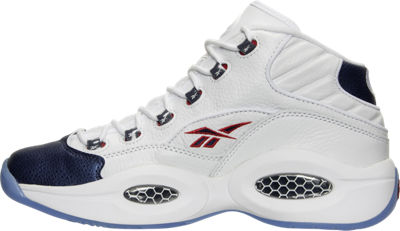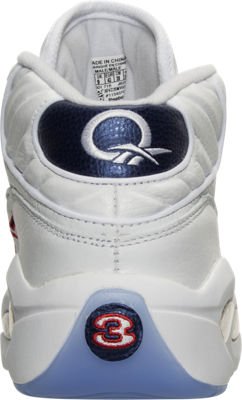 Rated

3

out of

5
by
MrTrustMyReview
from
Description of color was a little off
Ordered blue and color was pearl blue. You guys need to give a more detailed description.
Date published: 2017-05-12
Rated

5

out of

5
by
Juskiknit
from
Excellent shoes, these are my second pair & I'm sure I will buy more
Date published: 2017-05-02
Rated

5

out of

5
by
Phillyolhead422
from
Great style and color way
It's the Question....Philly......Iverson......nuff said. Sneakers look and feel great. Normally a size 10 but with Reebok have to go half size lower they seem to run big. Outside of that they look great for going out and you could absolutely wear them to run ball. Want to get the white and red pair.
Date published: 2017-04-18
Rated

2

out of

5
by
Microshot
from
Uncomfortable for walking..needs more heal support! Styles great but comfort is horrible in my opinion.
Date published: 2017-04-01
Rated

5

out of

5
by
Jumpan54
from
I always liked these shoes! Plus I'm a Ai fan.
Date published: 2017-02-11