Men's Brooks Glycerin 12 Running Shoes
1101671D 842
Exuberance/Electric/Silver/White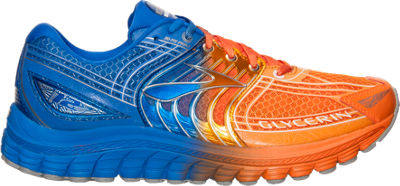 7.0
7.5
8.0
8.5
9.0
9.5
10.0
10.5
11.0
11.5
12.0
13.0
14.0
Product not available for In-Store Pick Up
Description
Ever wonder what running on clouds feels like? The Brooks Glycerin 12 Running Shoes answers that question. The lightest Glycerin to date, this neutral running shoe features the new Super DNA that gives back 20% more cushioning than BioMoGo DNA did, and Ideal Pressure Zones in the outsole distributes pressure evenly and smoothly as you run. The upper uses 3D Fit Print to create a custom fit, without the weight, while the comfy saddle conforms to your foot. So run, jump, and leap, because the Brooks Glycerin 12 Running Shoe is here!
FEATURES:
WEIGHT: 10.9 ounces
CATEGORY: Neutral
UPPER: 3D Fit Print
MIDSOLE: Super DNA
OUTSOLE: Ideal Pressure Zones
IMPORTED
Rated

4

out of

5
 by
Daydream
Son loves this shoe, Went to State XC in Va
He loves this shoe. I have also bought it for my husband. Both are very comfortable in it. And we love it when it is onsale. Just wish that they would put a stronger sturdier material on the sides of the shoe. Both of them doing different activities wore this area out on both shoes. The soles etc still great. But the outside of the shoe a mess. There is no reason that a stronger sturdier material could not be used to make this shoe last longer. I also wear Brooks and love them.
December 17, 2015
Rated

5

out of

5
 by
TonySis
Most comfortable running shoes
These running shoes are not only the most comfortable running shoes I have but are also the most good looking shoes I have in my closet. I have received more compliments on these shoes then any other shoe I have ever owned.If you want a great pair of comfortable,stable and good looking shoes <you have too look no further.
November 2, 2015
Rated

5

out of

5
 by
Corey492
Great shoes
Glad I decided to give these shoes a try. I was never a big runner, but now it's becoming a hobby because my feet and legs are pain free.
November 2, 2015
Rated

5

out of

5
 by
cshe2
Great Shoe
I have only worn these once but absolutely love them. They are super light and very comfortable. This is the 2nd pair of Brooks I have bought and will not be the last. Lots of support and really got the 12's at a great price. I currently run in the Brooks 11.
December 23, 2014
Rated

5

out of

5
 by
UNDEADLY
Smooth and Bouncy Long Distance Shoe (Full Review)
First I need to say that the Glycerin 12 has an outer foot support that at first can turn you off. It seems like flaw in design at worst or a slight discomfort at best. I **HIGHLY** recommend wearing these for at least several days while you go shopping or on walks so you can get used to it and it can form to your foot type. I almost resold these because of it and that would have been a HUGE mistake. Colors are not great (why white outsoles) and a little flashy for my taste. Comfort-After break in period (see above), absolutely the smoothest ride I have experienced. Also the bounce back you get from the Super DNA pods are unmatched. Makes a 10K feel like a 5K. Not a ton of arch support so high arch people may need some. Outer foot support is adaptive after break in period and the outsole is a softer material than something like the Adrenaline. Quality-It's Brooks so the quality is there. I have about 50-60 miles on mine and tread still shows textures. No signs of anything breaking down yet. Value-Here's the biggest (and really only) flaw. Anywhere from $120-$150 at most stores. OUCH! Luckily found mine on ebay for $75. WIN! Performance-Lacing system is standard so nothing crazy here. I always skip the eyelets at the top of my foot for comfort due to higher than normal arches. The laces themselves seem to stretch way too much. So if you like a tight feel, replace them. Heel has good cushioning and lock down if fit is correct. Fit/sizing-Seems to fit as expected. Toe box is roomier than Adrenaline so your toes can move a bit, but not too much.
November 21, 2014
Rated

4.9

out of

5

 by

8

reviewers.