Boys' Grade School New Balance 574 Backpack Casual Shoes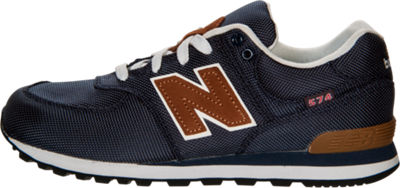 3.5
4.0
4.5
5.0
5.5
6.0
6.5
7.0
Buy Online & Pick Up In-Store
Description
Break away from the ordinary sneaker with this collection of New Balance 574's that might just be made from the same fabric of the backpack that's being carried off to school. Unique nylon mesh and bright color combinations combine to liven up the 574's traditional look and give this classic style a unique feel.
The Kid's New Balance 574 is the must-have shoe for the trend conscious kid looking to hit the playground hard while staying in style. These shoes are made to keep small feet cool and comfortable, while offering superior quality and durability. Featuring a lightweight upper and foam midsole, Kids won't have to go inside when going from school to play.
A limited edition of the classic retro-sneaker, the backpack inspired 574's are the perfect way to give your kid a trendy look that they can take them from bus stop to after school play.